Voluntary Vaccination for Infants
In addition to the Routine Vaccination recommended by Immunization Act, there is Voluntary Vaccination which you can receive at your option.
Unlike the Routine Vaccination which you can receive basically free of charge, you have to pay for the Voluntary Vaccination. However, this does not mean that the Voluntary Vaccination has less necessity.
Voluntary Vaccination is also important to prevent serious diseases and their aftereffects.
We recommend you to talk about the vaccination schedule on the occasion of monthly health checkup.
Reception Time

※▲On Saturday afternoon, we accept your appointment up to 5:00.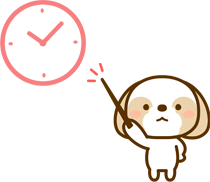 Vaccines of Voluntary Vaccination
Vaccines

Standard ages for vaccination and inoculation method
Hepatitis B vaccine (HBV)
(Voluntary after 1 year old)

3 injections in total. 2 of them are at 4 week intervals, and another one is 20 thru 24 weeks after the first injection.
Rotavirus

First vaccination should be before 14 weeks and 6 days old.
Additional vaccinations are twice between 6 and 24 weeks old or three times between 6 to 32 weeks old (depending on the types of vaccines)
Mumps

First injection is around 1 year old.
Additional vaccination is 2 thru 4 years after the first injection.
Hepatitis A

2 injections at 2 thru 4 week intervals.
One more injection is 24 weeks after the first injection (WHO recommends the minimum age of recipient should be 1 year old).